Independent adventures through Grand Cayman can be a delight but when you're looking to explore under the water, partnering up with the experts helps you make more of every moment. When diving, cruising, or getting PADI Certified is on your itinerary, look no further than Cayman Turtle Divers.
When planning your trip to Grand Cayman, don't forget about all the amazing restaurants, shopping, and spas on the island. Request a free copy of our Vacation Guide to start planning the rest of your dream getaway! 
Cayman Turtle Divers
Cayman Turtle Divers is headquartered at 1428A West Bay Road, Trafalgar Place #C2. They're open for business daily from 7:00 am until 5:30 pm and are proud to provide guests to the Cayman Islands with access to incredible diving experiences that make for unforgettable memories under the waves. The Cayman Turtle Divers dive shop is a one-stop resource for customized dives led by knowledgeable and certified crew members. Here, dive groups never exceed six people at a time to ensure a more intimate experience with opportunities to ask questions and learn along the way. Every dive trip is a one-of-a-kind experience thanks to the opportunity to pick and choose from trips that fit your particular travel style. Through Cayman Turtle Divers, it's possible to book everything from reef diving and wall diving to dives that focus on local shipwrecks as well as those that showcase Stingray City. No matter what tour guests select, they'll find that these guided dives are a chance to get up close to some amazing wildlife and underwater scenery. The waters that make up Grand Cayman linger at an average of 80 degrees Fahrenheit and are crystal-clear year-round as well.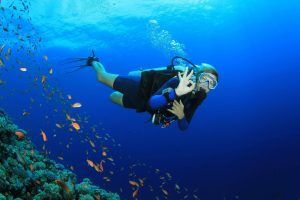 There are over 200 dive sites to explore across Grand Cayman showcasing an ecosystem that's beautifully diverse and thrilling. There's a good chance that along the way you'll come across everything from turtles and stingrays to angel fish, moray eels, and maybe even sharks. Those that opt for a wall diving experience will have a chance to admire sheer vertical expanses underwater that are often topped with colorful sponges and corals. The team at Cayman Turtle Divers is well-versed in helping travelers make the most of a convenient tour and is happy to provide valet service to make setting up and transporting gear as well as getting it organized at the end of the day a breeze from start to finish.
Instruction Options Available
If you're not yet certified to dive, no worries! Cayman Turtle Divers caters to all levels of dive students and is equipped to provide PADI certification courses upon request. Classes are customized to student comfort level and are considered an immersive journey alongside PADI-certified instructors. The various PADI certifications that can be earned through Cayman Turtle Divers include Scuba Refresher, First Time Divers, PADI Open Water, and PADI Advanced Open Water.
Private Charters
Another option for fun, when you partner with Cayman Turtle Divers during your Grand Cayman adventure, is the opportunity to book a private charter. Through Cayman Turtle Divers, guests can book half-day or full-day charter options with a focus on the dive site of their choice. Those who would rather skip the diving altogether and focus on the sailing fun can opt for the private charter booze cruise option which pairs flavorful beverages with stunning views of Grand Cayman at sunset.
Book Your Stay Today
Elevate your Grand Cayman stay by booking beautiful and luxurious accommodations through The Residences located at the Ritz-Carlton. Reach out today to learn more and to start planning! Book our Cayman Island pet friendly rentals here.