Did you know that about 95% of the ocean remains unexplored? Do you ever wonder what's underneath the sea? You can see these mysterious wonders for yourself when you go scuba diving in the Cayman Islands! The Caribbean is alive with all kinds of colorful creatures and incredible treasures. Experience it all at some of our favorite dive sites.
When you go on a getaway to the Cayman Islands, it's all about making memories. Plan the trip of a lifetime with help from our complimentary Vacation Guide. We know that planning can be challenging and time-consuming, we made a list of some of the best things to do and places to go in the area! In it, you'll find more activities like scuba diving in the Cayman Islands, the best restaurants, popular events, and more!
Grand Cayman Dive Operators
The Cayman Islands are home to some of the best dive operators in the business! Each is incredibly dedicated to ensuring you have the best possible day scuba diving in the Cayman Islands. Here are some of our trusted favorites:
Deep Blue Divers Cayman

is one of our favorite Grand Cayman dive operators because they offer both courses for beginners and excursions for certified divers. You can trust that they will bring you to the best dive sites available and teach you all you need to know during certification classes.

Living the Dream Divers

has been taking people scuba diving in the Cayman Islands for more than 20 years. They will personalize your trip based on your experience level and give you any assistance you may need. Plus, their custom-built dive boats are some of the best around!

Sea Trek

is a great alternative to technical scuba diving in the Cayman Islands! Experience the underwater world when you put on the special helmet. Each helmet has been designed to give you air while you explore the ocean floor.
4 of Our Favorite Grand Cayman Dive Sites
Grand Cayman is known for containing some of the most jaw-dropping dive sites. You'll be blown away by what you'll find underwater. Here are some of our favorite spots for scuba diving in the Cayman Islands:
USS Kittiwake

– Seeing shipwrecks is fascinating. You can explore this amazing sunken vessel and observe all the friendly fish that have made their homes here!

Stingray City

– You can get up close and personal when you dive with the sea creatures at Stingray City!

Devil's Grotto

– Your experience at this dive site will be unforgettable. Here, the coral is vibrant and the marine life is plentiful. Plus, from June until August, schools of silversides flutter through the water.

Ghost Mountain

– If you're looking for somewhere unique to explore, you'll love Ghost Mountain. You'll be able to swim around a large, mushroom-shaped formation surrounded by countless schools of fish!
What You Can See While Scuba Diving in the Cayman Islands
The Caribbean is teeming with life! While you're scuba diving, keep your eyes peeled for all the different marine species that live here. Some creatures you can expect to see are sea turtles, stingrays, groupers, Caribbean reef sharks, sponges, elkhorn coral, squid, silversides, and even an octopus! Try to learn as many species as you can before you dive so you can identify each one during your experience, and always remember to be respectful to the inhabitants here.
Book Your Dream Getaway Today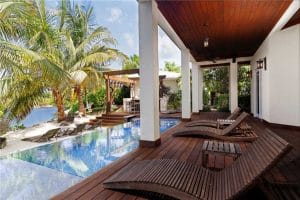 The best way to complete your dream getaway to the beautiful paradise of Grand Cayman is to stay in the most luxurious accommodations possible. Stay with us at the Residences Seven Mile Beach in Grand Cayman; we have the finest rooms and amenities waiting for you. With incredible views overlooking white beaches, dazzling blue waters, and lush gardens, you will never want to leave our deluxe properties of the Cayman Islands. Go out and explore the many incredible nearby attractions of our local area, or simply take time to relax in the comforts of our residences. We know you will make unforgettable memories here in the Cayman Islands, so check our availability today to start planning the trip of a lifetime!