The Cayman Islands are a year-round vacation destination, but that doesn't stop us from enjoying our summers. With temperatures in the 80s all season, it's the perfect time to visit. Plus, there are tons of summer events in Grand Cayman! Whether you happen to catch one during your stay at The Residences Seven Mile Beach in Grand Cayman or are planning your vacation around one of them, here are a few of our favorites. Access our complimentary Vacation Guide to start planning your summer stay!
4 Summer Events in Grand Cayman to Attend This Year
Cayman Carnival Batabano | May
Cayman Carnival Batabano has been one of the biggest highlights of our summer events in Grand Cayman since it started in 1983. For one week in May, locals and visitors gather together to celebrate the bright, vibrant culture of our islands. Thousands of people flock to the streets for the parade where participants wear their creative costumes. The festival's original name, Batabano, is an ode to our island's turtling heritage. The word "Batabano" refers to the tracks left in the sand by sea turtles. Finding these has always given us a reason to celebrate!
Flowers Sea Swim | June
Is swimming your passion? Compete in the Flowers Sea Swim! Not only is this swimming competition set in paradise, it is also for a good cause. All proceeds from the event go to the Special Olympics Cayman Islands. Everyone is welcome; you'll see everyone from children to Olympians competing. If swimming doesn't appeal to you, you can participate in the The Ms. Penny Walk & Watch. Support the cause from the sidelines as you cheer on the swimmers! Participants of the races and the Walk & Watch are all eligible for a variety of prizes. In the past, prizes have included cash, iPads, hotel stays, and airline tickets.
Constitution Day | July
Constitution Day is on July 6th, and we invite you to celebrate with us! Come to the Camana Bay Harbor to watch the fireworks go off. Head to Häagen-Dazs for a delicious ice cream cone to enjoy as you watch the sky light up with color.
Summer Moonlight & Movies | July – August
If you're looking for something to do on a Tuesday night, you're in luck! Every week throughout the months of July and August, movies are screened under the stars starting at 7:00 p.m. at Camana Bay. All movies are kid-friendly, so you can bring the whole family!
Book Your Summer Getaway Today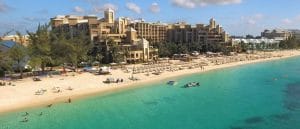 Experience island life this summer when you book your stay for one of these summer events in Grand Cayman! Enhance your getaway when you stay in the best accommodations on the island: The Residences Seven Mile Beach in Grand Cayman. Browse our deluxe Residences to start planning your getaway. Each comes with stunning views, concierge services, outstanding amenities, and more. Plus, you'll have access to two pools, a private stretch of Seven Mile Beach, golfing, and tennis courts. It doesn't get any better than this!