Are you tired of your everyday routine? The idea of being able to work remotely sounds fun at first, but sometimes it can make you feel a little stir-crazy. Strike the perfect balance of work and play on Grand Cayman! The beautiful blue waters, salty air, and pristine beaches will do wonders for your physical and mental health. Read on to learn more about the reasons you should consider making our Caribbean island your new workspace. Then, be sure to request a free copy of our Itinerary for everything you need to know about what to do on the island! 
---
5 Reasons You Should Work and Play on Grand Cayman 
1. The New Normal Doesn't Feel New Anymore
Working from home starts to get old after a while. If you're tired of working from your couch in your pajamas, consider switching things up. The change of scenery is sure to revitalize your productivity, creativity, and motivation. 
2. Views of the Caribbean Make Your Workday Fly
Ocean views, anyone? Imagine spending your workday looking out over the beach. Sit in the sunshine and answer emails. Take breaks between calls to watch the waves roar up the shore. Not only will your day go by quicker, but you'll likely feel more relaxed and at ease. 
3. Lunch Breaks Are More Exciting 
Make the most of your lunch break when you order food from one of the best restaurants on Seven Mile Beach! Whether you're craving a taste of Caribbean cuisine or brick-oven pizza, you'll find no shortage of dining establishments from which to choose. 
4. Blow off Steam With Outdoor Adventures 
After spending all day watching the world go in the window, you'll be ready to get outside and embark on an adventure of your own! Grand Cayman is home to an exciting array of experiences that will blow your mind. Some of our favorite things to do include: 
5. Unwind at Our World-Class Spa
We know that you will be busy working and exploring the island, but don't forget to make time to relax! The Ritz-Carlton Spa is a treasure situated along the shore of The Ritz-Carlton, Grand Cayman's Seven Mile Beach. For an unparalleled experience of luxury, extravagance, and tranquility, look no further. Treat yourself to a pampering spa treatment such as a massage or facial. You won't regret it. 
---
Work Remotely From Your Own Private Vacation Rental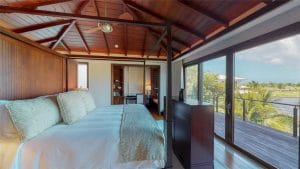 If you plan to work and play on Grand Cayman, make one of our luxurious vacation rentals your home away from home. Wake up to the sound of the ocean waves roaring up the shore. Enjoy a cup of coffee from your private porch. Make yourself at home! You will have access to The Ritz-Carlton Grand Cayman resort and all it has to offer, including golf courses, tennis courts, the spa, beach and pool access, and more. What are you waiting for? 
---