Whether you're traveling for work, celebrating retirement, or looking to purchase property, there are many wonderful benefits of staying in a long-term rental on Grand Cayman. Get acquainted with the island and all that it has to offer when you stay for a lengthy period of time. Explore the beautiful beaches, nearby islands, and the beautiful blue waters. Experience the Caribbean lifestyle firsthand and live like a local. Read on for more information. Then, request a copy of our free Vacation Guide to get an idea of what lies in store for you. 
---
3 of the Best Benefits of Staying in a Long Term Rental on Grand Cayman 
1. Rent Before You Buy 
Making a big decision such as moving abroad can feel overwhelming. That's why it's important to try before you buy. If you're considering purchasing a home on Grand Cayman, spending some time on the island in a long-term rental is the perfect opportunity to see what it's like to live there!
2. Live Like a Local 
Work remotely from a luxurious condo overlooking the ocean. Make the most of your time off from work or celebrate your retirement with an extravagant getaway. Regardless of whether or not you're planning to move to the Cayman Islands, don't pass up the opportunity to experience living in the Caribbean as a local! 
3. Experience the Best of Grand Cayman 
There is an endless selection of things to do on Grand Cayman for just about everyone's lifestyle. Dive into the deep blue and encounter stunning underwater scenes. Stroll along sandy white beaches. Feast on fresh, local dishes. Relax in luxurious settings. The list goes on and on. Here are just a few of our favorite suggestions. 
---
The Cayman Islands' Global Citizen Concierge Program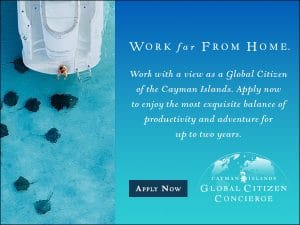 Who says you can't mix business with pleasure? The Cayman Islands' Global Citizen Concierge Program allows professionals and digital nomads to embrace a remote working lifestyle and immerse themselves fully in our care-free corner of the Caribbean. If you have the financial and professional independence that will allow it, you can opt to stay on Grand Cayman for up to two years through the Cayman Islands' Global Citizen Concierge Program. Here's what you need to know: 
Global Citizen Concierge Certificate Fee up to Party of 2 persons: US$1,469 per annum 

Global Citizen Concierge Certificate Fee for each dependent: US$500 per dependent, per annum

Applicants must provide various requirements in their application such as proof of employment, a bank reference, proof of identity, proof of health insurance, etc. 
You can learn more about requirements, travel options, current COVID-19 regulations, and more on the official Global Citizen Concierge Program website. Please contact us with any questions you might have about booking your stay in one of our Residences Located at The Ritz-Carlton, Grand Cayman. 
---
Book Your Stay With the Residences Located at the Ritz-Carlton, Grand Cayman for the Ultimate Caribbean Experience 
Are you ready to experience the beauty of the Caribbean? Enjoy the tropical lifestyle when you book a long-term rental on Grand Cayman and stay at The Residences Located at The Ritz-Carlton, Grand Cayman. Your private concierge has plenty of recommendations for you, and our stylish condos and spacious villas make the perfect home away from home. You'll love waking up to breathtaking views of the glittering ocean below, cooking in your state-of-the-art kitchen, and accessing our exclusive amenities. We even have pet-friendly rentals to accommodate your furry family members! 
---