The Cayman Islands are truly one of the most beautiful and romantic places in the world. If you and your partner are planning a getaway in the near future, you're sure to have a memorable experience full of fun, relaxation, and breathtaking views. Continue reading to learn more about some of the best Grand Cayman Romantic activities to include in your itinerary. Whether you're in the mood to kick back or looking for an adventure, we cover it all. For even more thoughtful local insight on the best things to do, request a free copy of our Vacation Guide! 
5 of the Best Grand Cayman Romantic Activities 
Are you planning your Honeymoon? Get even more thoughtful suggestions on how to plan your romantic getaway from our Cayman Islands honeymoon blog! 
1. Plan a Luxurious Spa Day
You don't want to miss out on a spa day at The Ritz-Carlton, Grand Cayman, Spa. You and your partner can opt for luxurious services ranging from massages and facials to body treatments and more! 
2. Embark on an Adventure 
There are so many fascinating adventures to enjoy on Grand Cayman! Maybe you'd like to get out on the water. Perhaps you'd prefer exploring the shore. Here are just a few of our favorite suggestions: 
3. Relax on the Beach 
When you stay in one of our private Residences Located at The Ritz-Carlton, Grand Cayman, you will be just steps away from the famed Seven Mile Beach! Slow down, relax, and enjoy the sunshine. The beautiful crystal waters and white sandy beach set a romantic scene for you and your partner. 
4. Eat Delicious Caribbean Cuisine 
Nothing says "romance" quite like a delightful dining experience on Grand Cayman! There are many impressive restaurants on the island, but you don't have to travel far to experience the best of the Caribbean's cuisine! Some of our favorite Seven Mile Beach establishments include: 
5. Stay in a Private Residence With Ocean Views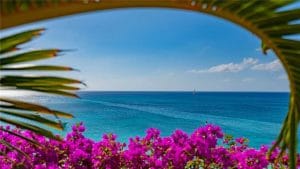 Staying in a gorgeous property overlooking Seven Mile Beach is one of the most romantic activities on Grand Cayman. Additionally, there are countless activities and opportunities to create lasting memories on the island, and we're here to help. Our local staff and concierge will help you pick the best places to go and things to do. 
Stay in luxury at The Residences Located at The Ritz-Carlton, Grand Cayman. Each of our private Residences is outfitted with stylish furnishings and professional-grade appliances. Browse our residences and start planning your romantic Caribbean getaway!