If you're looking to get away with your best friends to relax and unwind from the everyday stresses in your life, the Cayman Islands is the ultimate paradise for your well-deserved vacation. From award-winning beaches to world-class luxury, planning a girls' trip to Grand Cayman couldn't be more ideal. We've come up with some must-dos for you and your group to ensure you make the most of your getaway.
To make the most of your trip to Grand Cayman, access our complimentary Vacation Guide. It's full of local and thoughtful suggestions for the best dining, shopping, activities, and more in the area!
Girls' Trip to Grand Cayman
Hit the Beach
The Residences Located at the Ritz-Carlton, Grand Cayman sits directly on the award-winning Seven Mile Beach. Its calm turquoise waters and soft, white sand create the perfect postcard landscape for your girls' trip to Grand Cayman. While the beach is known for its beauty, it also offers excellent restaurants and bars, endless activities, and spectacular sunsets. Visitors enjoy paddle boarding, parasailing, snorkeling, jet-skiing, swimming, and even helicopter rides for a bird's eye view! If you and your group decide to explore the other beaches around the island, you won't be disappointed. Each one provides a different atmosphere and different features.
Treat Yourself to a Spa Day
The Ritz-Carlton Spa, the resort's spa, was designed with ultimate luxury and rejuvenation in mind. With shimmering walls of water and a cool color palette, you'll feel instant relaxation wash over you as soon as you step inside. Start your experience in one of the relaxation sanctuaries, then let the experts at The Ritz-Carlton Spa complete your treatment of choice. Spa services include facials, body massages, body treatments, nail services, and waxing.
To start your getaway off right, we recommend reserving the "Total Escape" treatment. Restore, replenish, and rejuvenate yourself during your stay with this amazing service. Enjoy a 60-minute Swedish Massage, a 60-minute Signature Facial, and the Perfect Manicure and Pedicure.
Indulge in Cayman's Culinary Scene
The Cayman Islands are often referred to as "the culinary capital of the Caribbean." With hundreds of restaurants on Grand Cayman alone, you can experience five-star dining, freshly caught seafood, and a wide variety of cuisines all in one trip. Lucky for you, many of the island's best restaurants are located within the Ritz-Carlton, Grand Cayman. The resort restaurants even include Blue by Eric Ripert, the Caribbean's only AAA Five Diamond restaurant.
Stay in a Luxury Vacation Rental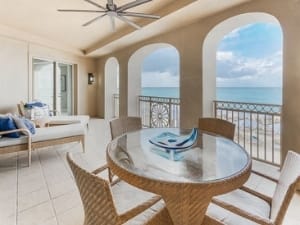 When you consider a setting as incredible as the Cayman Islands for your vacation, you want your accommodations to match the splendor of the bright blue waters and pristine beaches of the landscape. You'll never compromise on luxury at The Residences. All of our rentals include a chef's kitchen, concierge service, a balcony or patio, designer furnishings, high-end features, luxury bathrooms, access to all of the resort's amazing amenities, and views of either Seven Mile Beach, lush tropical gardens, or both. Whether you're looking for something on the ground floor or a property that can sleep up to 14 guests, we're sure to have the perfect Grand Cayman vacation rental for your group.