A trip to the Cayman Islands is a scenic and exciting experience no matter what time of year you arrive. Once you're ready to go, the hardest part can be knowing whether Grand Cayman or Little Cayman should be your destination of choice. While both are filled with captivating opportunities for fun, there are some differences to note that could help you make up your mind so your trip best aligns with your travel preferences.
Read on to see how to choose Grand Cayman vs Little Cayman. Don't forget to download our complimentary Vacation Guide. It's full of local and thoughtful suggestions for the best dining, shopping, activities, and more in Grand Cayman!
How To Choose Grand Cayman vs Little Cayman
Whether you opt to enjoy time on Grand Cayman or Little Cayman, it's important to note that they sit 86 miles from one another at any given time. To reach Little Cayman from Grand Cayman where flights land, you'll have to take another plane. Most flights from Grand Cayman to Little Cayman are no more than an hour.
Exploring and Enjoying Grand Cayman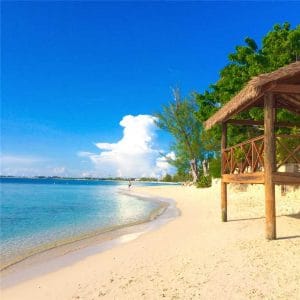 Much as the name indicates, Grand Cayman has more to offer visitors in terms of square mileage as compared to its counterpart Little Cayman. This is the island where most cruise ships dock and it's also home to iconic landmark stops like Seven Mile Beach. Grand Cayman is home to a variety of fantastic dining establishments, nightlife venues, hotels, and more. There's a vibrant energy here that's easily paired with leisurely time on the sand too. Many visitors head to Grand Cayman to make the most of world-class diving and snorkeling adventures alongside a plethora of other exciting watersports. The area is home to shipwrecks that can be viewed while diving and once you return to shore, Grand Cayman has no shortage of options to choose from when it comes to eateries. In fact, there are more than 200 restaurants found across the island featuring local seafood as well as dishes inspired by far-flung destinations. The beaches here are popular with tourists and beautiful while shopping your way through a stay or encountering amazing wildlife is always within reach.
Little Cayman Experiences
When you're looking for a quiet island to enjoy that's equal parts beautiful and welcoming, Little Cayman has you covered. The island is just 10 miles long and a mile wide, offering visitors a true off-the-beaten-path feeling where solitude and tranquility lead the way to an amazing stay. Those enjoying time on Little Cayman will love taking leisurely walks on the sand, bicycling their way across the island, or relaxing on the beach. This island also hosts great diving and snorkeling opportunities with fewer crowds to contend with. Here, you can spend afternoons scootering through charming neighborhoods or make time to encounter wildlife like Frigate Birds, parrots, sea crabs, lizards, iguanas, and beyond. Where Grand Cayman brings the energy, Little Cayman brings a refreshing air of relaxation.
Book Your Getaway Today
No matter when you make your way to Grand Cayman, booking accommodations at The Residences is the way to go. Let luxury, comfort, and style further enhance your stay when The Residences is your accommodation of choice. Reach out today to learn more about our exciting and inviting options and to get started! Book our Cayman Island pet friendly rentals here.