A well-earned vacation to Grand Cayman is a chance to make the most of amazing shorelines, luxurious dining, and spectacular shopping too. But for all of the land-based fun that Grand Cayman offers its visitors, a trip this way is just as alluring when you plan to make the most of your time on the water. Paddleboarding in Grand Cayman is a fantastic activity to add to your itinerary no matter when you arrive or how long you plan to stay. Year-round, it's a route relishing views from the waves at your very own pace.
Discover even more things to see and do on the island when you access our complimentary Vacation Guide.
Paddleboarding in Grand Cayman
Located on Queens Highway, White Sand Water Sports is a premier provider of water sports equipment rentals on Grand Cayman and is open to the public daily between 9:00 am and 4:30 pm. This one-stop shop for paddleboard rentals is a great place to pick up quality gear to get out on the water whether you're new to paddleboarding or experienced. In addition to top-notch rental options, White Sand Water Sports offer beautiful bioluminescence tours when the sun goes down that are always sure to thrill.
7 Mile Paddle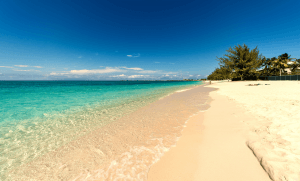 Found at 27 Foster Bay Vilas, 7 Mile Paddle is another great paddleboard rental provider in Grand Cayman for those who are excited to add this adventure to their lineup of fun activities to enjoy. They're open 24 hours a day making rentals here convenient no matter when you have time to get out on the water in style. The team is here passionate about what they do and provides rentals for a half-day or full day of adventure as well as weekend rental options upon request. While independent paddleboard rentals are readily available, at 7 Mile Paddle, guests can also book paddleboarding tours alongside knowledgeable and friendly guides.
Adventura Cayman
Whether you're looking to paddleboard for exercise or for fun, Adventura Cayman has you covered. This company is located in George Town and provides guests with access to paddleboard rentals that span anywhere from a half-day adventure to eight or more days of water excursions. They also provide guided paddleboard tours through mangrove forests and sunset paddle experiences as well. Lessons are available upon request and the team is here and is more than happy to help you plan your paddleboard route.
Where to Enjoy Paddleboarding Fun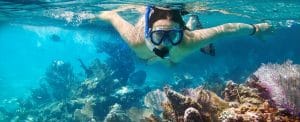 If you're renting a paddleboard and heading out on your own, there are plenty of options to choose from in Grand Cayman. Seven Mile Beach is a particularly pristine and popular place to put a paddleboard in the water while the east end of the island is also a delight. Many paddleboarders head to the North side of the island while Little Cayman is an option as well. When you're looking to expand on your fun, consider pairing paddleboarding with other water activities in these areas like kayaking, sailing, or snorkeling too.
Book Your Stay in Grand Cayman Today
Making more of your Grand Cayman adventure begins with booking luxurious accommodations at The Residences at the Ritz-Carlton. Reach out today to learn more about the exciting options available and to start planning your next island vacation. Book our Cayman Island pet friendly rentals here.